You may not think that you need a Miami car accident lawyer or personal injury lawyer if you've been involved in a car accident in or around Miami Florida. You may perhaps be feeling confident in your ability to handle the case on your own. While that's certainly possible, there are some real advantages to having a good Miami car accident lawyer fighting in your corner.
For one thing, a Florida auto accident attorney knows the ropes. Lawyers train for years in law school, followed with real-life practice, handling dozens or even hundreds of similar cases. That kind of experience is impossible for a novice to replicate and brings with it tremendous advantages, understanding the ins and outs of a very complicated process that personal injury lawyers handle.
Hiring a reputable personal injury firm and talking to a good Miami car accident lawyer can be a tremendous benefit. But understand that you should strongly consider having an experienced professional that is capable of taking some of the weight off your shoulders. A car accident attorney who has been there and done it before will be able to guide your case without burdening you with all the work of remembering deadlines, filing documents, responding to requests, and, perhaps most importantly, dealing with insurance companies and insurance adjusters.
Hiring a Miami personal injury attorney means that someone else is in charge of organizing all these different components of the claims process, freeing you up to heal from the accident and get on with your life.
What Should You do After a Car Accident?
Personal injury law firms handle car accidents all the time. And as you could guess accidents in Floridahappen all the time. If you've been involved in a Miami, Florida, car accident, even before contacting a car crash lawyer, the very first thing that needs to be decided is whether you should receive medical treatment.
If the accident was at all serious and you have even the slightest suspicion that you might be injured in any way, you need to immediately seek medical attention. This is critically important for several reasons. First, seeking treatment quickly improves your odds of minimizing harm and recovering more quickly. Second, it gets your injuries recorded immediately; creating a paper trail that will prove helpful down the road. Finally, it prevents the other side or the other side's insurance company from claiming your injuries happened later or were caused by something other than the car accident.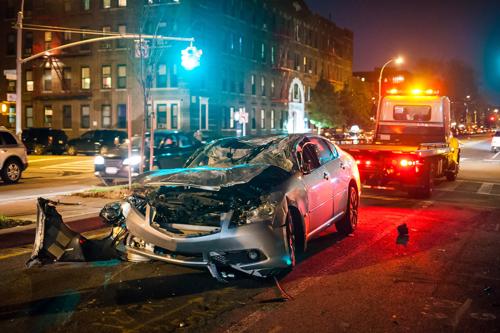 If your car accident wasn't serious enough to justify a trip to a doctor, there are still other things you can do to help prepare for a possible future car accident claim. First, exchange contact and insurance information with the other driver. It's important to get the person's name, address, and other insurance details so that when and if a claim occurs your insurance company and your lawyer will have an injury report and will know who they need to reach out to. It's also important to get the contact information for anyone who may have witnessed the accident. These people could be important down the line if there is a dispute over what happened.
If possible, take photographs of the damage sustained by both cars as well as the scene of the accident itself. Finally, jot down any details you can think of as soon as possible after the accident. If the other driver was distracted or on a cell phone or if they were speeding or if the weather was bad, all these details might be important later on but can easily be forgotten after the rush of an accident. Writing as many things down soon after a crash could be a tremendous help later.
Pictures are Important to a Car Accident Lawyer
It really is true when people say that pictures are worth a thousand words, maybe even two thousand. If the accident is later disputed, perhaps the other side claims it wasn't as severe as you say, pictures can be a great way to end the debate. Showing photographic proof of a crushed vehicle tells a judge and jury all they need to know about how serious an accident was. Photographs are also tremendously helpful ways of demonstrating the seriousness of injuries, making people understand immediately and without much description how badly a person was hurt.
If it's at all possible, try and take some photographs of the accident and show these to your lawyer later on. Walk around your car with your camera or smartphone and snap pictures as you walk. Getting some pictures of the other car(s) involved in the crash can also be helpful, as well as more general pictures of the scene of the accident. All that being said, remember that safety is far more important than memorializing the car crash. Do not get out of your car and take pictures if it isn't safe to do so, as this could make a bad accident much, much worse.
How Does a Miami Personal Injury Lawyer Prove Fault After a Car Accident?
It is important to understand that if involved in a Miami accident, Florida handles car accident cases differently than most other states. In fact, Florida is one of just 12 states that have no-fault automobile insurance laws. These laws, implemented in the early 1970s, were designed to make it faster and easier to recover damages after a car accident.
The law requires all drivers in Florida to purchase personal injury protection (also known as "PIP"), which provides coverage for medical expenses, lost wages, funeral expenses, and other related costs regardless of who is responsible for the crash. This means your insurance company must pay you for your losses regardless of who was at fault.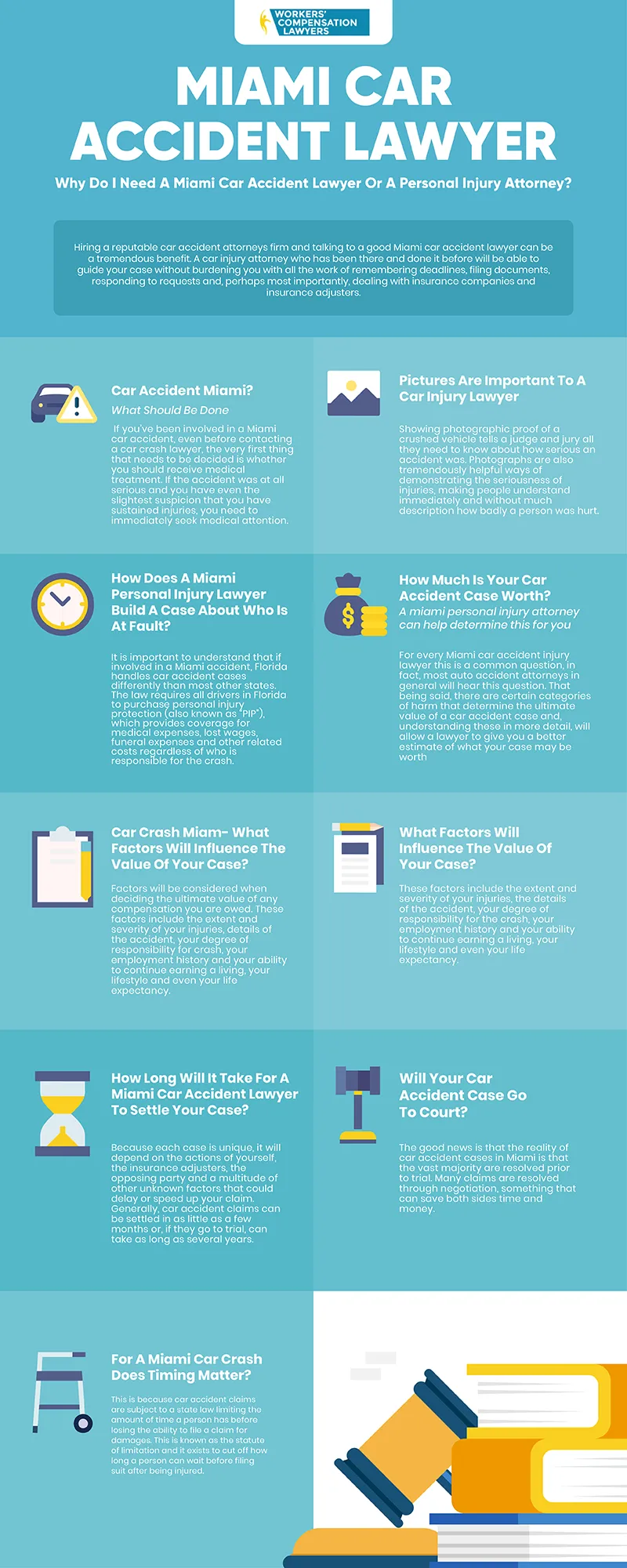 What Factors Influence the Value of a Car Accident?
For every Miami car accident injury lawyer this is a common question, in fact, most auto accident attorneys, in general, will hear this question. Many car accident victims are curious to know just how valuable their car accident case might be. Unfortunately, the question is almost impossible to answer in a general way, with each case turning on the specific circumstances involved.
That being said, there are certain categories of harm that determine the ultimate value of a car accident case and, understanding these in more detail, will allow a lawyer to give you a better estimate of what your case may be worth. These categories include past medical bills, future medical expenses, lost wages/time off work, loss of future earning capacity, and pain and suffering.
Within the categories listed above, certain factors will be considered when deciding the ultimate value of any compensation you are owed. These factors include the extent and severity of your injuries, the details of the accident (was it simple negligence, recklessness, gross negligence, intentional?), your degree of responsibility for the crash, your employment history, and your ability to continue earning a living, your lifestyle and even your life expectancy. All these things go into the complicated mix of things being considered when deciding how much to award in compensation for a Florida car accident case. This is why a good Miami car accident lawyer is invaluable to get counsel from.
How Long Will it Take For a Miami Car Accident Lawyer to Settle Your Case?
This is another impossible question to answer without knowing the specific facts of your case. Even with specific details, a Miami car accident lawyer may not be able to estimate with much accuracy how long it will take to resolve. This is because each case is unique, it will depend on the actions of yourself, the insurance adjusters, the opposing party, and a multitude of other unknown factors that could delay or speed up your claim. Generally, car accident claims can be settled in as little as a few months or, if they go to trial, can take as long as several years.
Will a Car Accident Case go to Court?
Many people think that all car accident cases end up before a judge and jury in a dramatic courtroom encounter, something some are made nervous by and eager to avoid. The good news is that the reality of car accident cases in Miami is that the vast majority are resolved prior to trial. Many claims are resolved through negotiation, something that can save both sides time and money.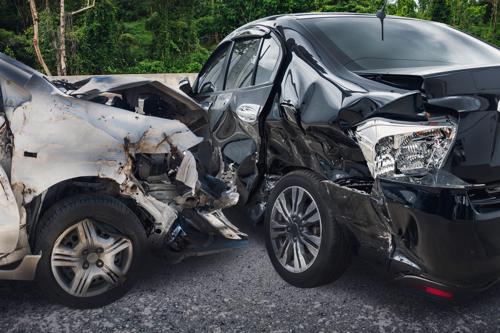 As a result, only a small percentage of claims ever need to be brought before a judge. That being said, you never know in advance which claims will need to be taken to court, which is why it's so important for the Miami car accident lawyer you hire to be comfortable whichever way the case goes; either reaching a negotiated settlement or taking the case before a judge.
How Much Time do You Have to File a Miami Car Accident Claim?
It's an unfortunate reality that the victims of car accidents are not given unlimited time to recover and heal before deciding how they want to handle their case. This is because car accident claims are subject to a state law limiting the amount of time a person has before losing the ability to file a claim for damages. This is known as the statute of limitation and it exists to cut off how long a person can wait before filing suit after being injured.
There is no universal statute of limitations; it shifts depending on the state and the type of injury at issue. In Florida, personal injury claims against the third party at fault person must take place within four years of the date of injury. Individuals have four years after the date of injury to bring uninsured/underinsured claims against their own insurance company. For more information on this matter contact a Miami car accident lawyer today.
Contact a Car Accident Attorney in Miami, Florida Today
If you have been in a wreck, contact an experienced Miami car accident lawyer to review & handle your case. You have a lot of important decisions to make in the near future.