If you or someone you love has experienced injuries and losses through the actions of a drunk driver in Florida, you have legal rights that allow you to seek compensation from the intoxicated driver. You can ensure that your medical expenses, lost wages, emotional distress, and pain and suffering are all covered in your case. However, you will need a skilled Miami drunk driving accident lawyer to get the maximum compensation possible under Florida law.
Our goal is to help you face the insurance companies and advocate for your best interests. Let us work for you and ensure that you have the benefit of our knowledge and experience in your case. Contact our Miami car accident lawyers at Miami Lawyers 360 today. 
Florida Drunk Driving Laws
In Florida, drunk driving laws specify that it is unlawful to drive while impaired by alcohol or other substances. Any driver can be arrested for violating Florida's drunk driving laws if their blood alcohol content (BAC) level is 0.08 percent or higher while behind the wheel.
Even if the BAC is beneath this minimum amount, any demonstrated signs of impairment can lead to an arrest, particularly if other legal or illegal drugs are involved. For teenagers, any BAC is breaking the law, and with commercial drivers, the BAC limit is 0.04 percent.
If you understand Florida's drunk driving laws, you will know how to build a strong case to receive the compensation that you deserve. On that note, even if the at-fault driver is not charged with a crime, you can still recover damages from the drunk driving incident.
Drunk Driving Accident Statistics in Florida
In 2010, the Florida Department of Highway Safety and Motor Vehicles statistics on car accidents involving alcohol from the Florida Crash Records Database revealed a troubling trend. There were 17,748 car accidents, 12,168 injuries, and 794 deaths caused by drunk drivers in the Sunshine state, showing that drunk driving is a serious and threatening problem.
When it comes to preventable causes of injury and death, drunk driving is one of the primary points of concern. There are many options to help drivers avoid these terrible circumstances by simply choosing a designated driver, taking a cab, or using an app like Uber when they've been drinking. This could save thousands of lives and injuries, but far too many drivers break the law by driving drunk with devastating results.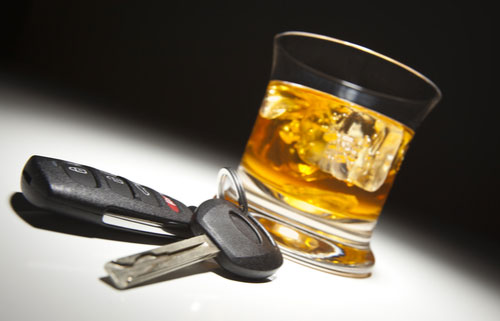 Common Injuries Caused By Drunk Driving
Because impaired drivers are unable to respond quickly enough to avoid collisions and because they are unable to effectively take precautions, drunk driving accidents are among the most dangerous, serious, expensive, and deadly. The most common injuries caused by drunk driving include the following:
Fractures / Broken Bones
Whiplash / Damage to Soft Tissues
Lacerations and Bruises
Disfigurement / Scars
Loss of Limbs / Severed Limbs
Burns from Fire and Contact with Hot Metal
Traumatic Brain Injuries and Concussions
Paralysis / Spinal Cord Injuries
Loss of Life
Depending on your injuries, you may be unable to work, unable to enjoy life, and forced to endure ongoing surgeries, rehabilitation, and medical treatment. You should be compensated for all of these losses and the intoxicated driver should face the consequences of his or her behavior.
Unfortunately, the saddest outcome of drunk driving is the death of an innocent person. This may be the driver or passenger in either vehicle and the wrongful death can be compensated for in a lawsuit, though nothing will ever take away the grief.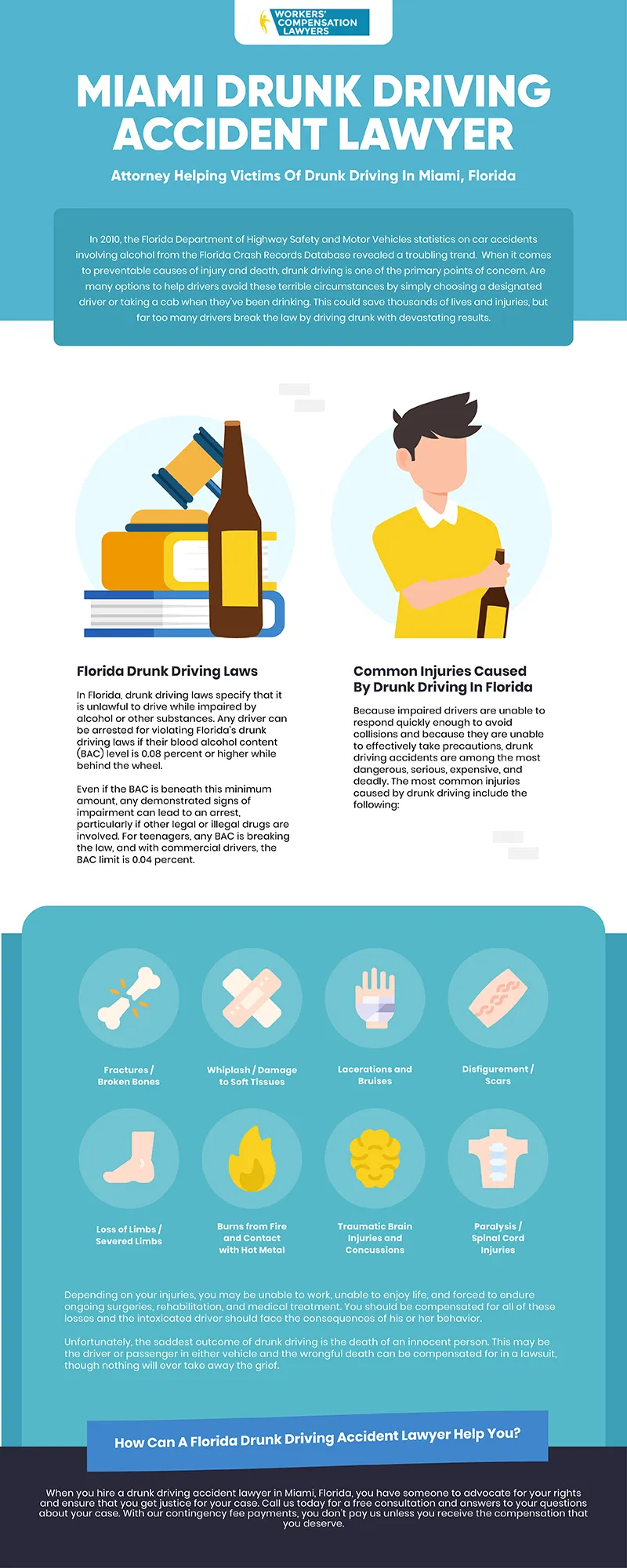 How Can a Miami Drunk Driving Accident Lawyer Help You?
When you hire a drunk driving accident lawyer in Miami, Florida, you have someone to advocate for your rights and ensure that you get justice for your case. Call our Miami personal injury law firm today for a free consultation and answers to your questions about your case. With our contingency fee payments, you don't pay us unless you receive the compensation that you deserve.