Even though workers' compensation is designed to protect workers that have fallen ill or become injured because of their job, it isn't always easy for workers to get benefits when they need them. Many workers' compensation claims are denied, and many workers do not receive the full amount that they are owed. When you work with Workers' Compensation Lawyers Coalition, you'll have dedicated and experienced experts fighting for you.
Florida Workers' Compensation Income Limits
The workers' comp system in Florida is designed to compensate employees for some of the losses they'll experience if they suffer a work-related illness or injury. Workers that are eligible for benefits can start receiving payments after filing a workers' compensation claim.
Although workers that qualify for benefits are entitled to receive a portion of their average wages, Florida Statute 440.12 (2) limits how much individuals can receive. Workers' compensation is capped at 100% of the current average statewide weekly wage. This means that income limits for workers' comp can change from year to year.
Types of Hialeah Workers Compensation Benefits
There are different categories of workers' compensation that are designed to meet the needs of injured workers. You can find out more about the types of benefits available in Hialeah below.
Temporary Total Disability Benefits In FL Workers' Comp (TTD)
TTD benefits may be awarded to workers that are no longer able to work because of workplace-related illness or injury. As the name implies, these benefits are designed to be temporary in nature. Workers cannot decide that they are unable to work on their own. Instead, they must be assessed by a physician.
Once you have filed a claim, your employer's workers' compensation insurance company will be notified of your injury. After that, you will begin to receive TTD payments within 21 days. Benefits are equal to two-thirds of your average weekly wages before your injury. Benefits are capped at $971 per week. Payments are sent out on a bi-weekly basis.
While you will receive retroactive pay for any benefits that you are owed, you will only begin earning benefits after you have missed more than seven days of work because of your injury. If your injury keeps you from working for more than 21 days, however, you will receive a retroactive payment for the initial week of work you missed.
Temporary Partial Disability Benefits In FL Workers' Comp (TPD)
TPD benefits are designed for injured workers that are able to return to work with some restrictions while they recover. For example, a worker may be put on light duty or may have to work fewer hours. Workers that are earning less than 80% of their pre-injury wages because of these restrictions may be able to receive TPD.
TPD payments are equivalent to 80% of the difference between the wages you are earning now and 80% of your average wages before the injury. These benefits are designed to supplement your income. TPD benefits will continue until you are earning over 80% of your pre-injury wages again. You can receive benefits for up to 104 weeks.
Permanent Partial Disability Benefits In FL Workers' Comp (PPD)
Impairment caused by work-related injuries isn't always temporary. In some cases, workers are left permanently disabled. If a worker is no longer physically able to do the job they did before their injury, and this has lead to lower wages, they could qualify for PPD benefits.
The amount of money an injured worker can receive from PPD benefits can vary greatly based on the type of injury and the injury's severity. After a physician has stated that a worker has achieved maximum medical improvement, which is the highest possible level of recovery from an injury, the patient will be assigned a disability rating.
In some cases, an employer's workers' compensation insurance company may disagree with the disability rating that a patient has been assigned. If there is a benefits dispute, PPD benefits will be decided on by a Judge of Compensation Claims. If either party disagrees with the final decision, that decision can be appealed.
Permanent Total Disability Benefits In FL Workers' Comp (PTD)
If a worker is permanently disabled by a work-related injury, and the severity of that injury has left them completely unable to work, they could qualify for PPD benefits. These benefits are only intended for individuals that have suffered catastrophic injuries.
Examples of injuries that could cause a worker to qualify for PPD benefits include spinal cord injuries resulting in paralysis, severe brain injuries, or amputation of a limb. Workers that do qualify for these benefits are entitled to receive two-thirds of their average weekly income until they are 75.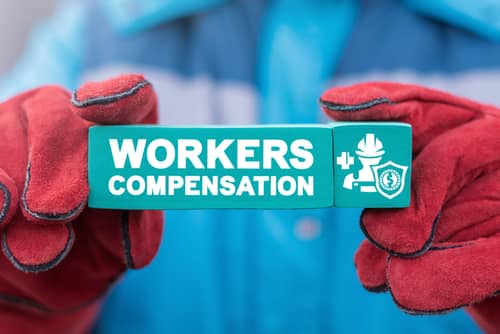 How are Workers' Compensation Benefits in Hialeah Calculated?
Workers' comp benefits on Hialeah are calculated based on the average weekly wages a worker was collecting before the injury and the impact the injury has had on the worker. When determining average wages, bonuses and overtime pay will be taken into account.
Average wages are based on what a worker earned over the last 13 weeks before their injury. Benefits in Florida are capped based on the average weekly wage in the state. Payments can be up to two-thirds of a worker's lost wages.
Are Hialeah Workers' Compensation Benefits Taxed?
Workers' comp benefits are exempt from both state and federal taxation. Benefits are not considered to be income, which means they do not need to be reported on taxes. This applies to both weekly payments and any lump sums or settlements you might receive.
If you are working while collecting benefits, your wages will still be taxed like they normally would. However, the money you are earning from your benefits will not be considered when determining what you owe in taxes. If you have concerns about what you'll be paying in taxes after collecting benefits, it's best to speak to an experienced lawyer.
If you've been injured, you shouldn't have to struggle to receive the benefits you're owed. Miami Workers' Compensation Lawyers Coalition will fight on your behalf and let you focus on your recovery. A serious illness can be life-changing, which is why you need the support of qualified professionals during this difficult time. Reach out to us at (786) 686-2857 if you want to find out more.