Every year, millions of workers are hurt on the job. Even though workplace accidents are very common, many workers don't know what to do after an on-the-job injury. Reporting a work-related injury in Hialeah, FL needs to happen immediately following the incident. This sometimes causes people to make mistakes that can lead to worker's compensation claims being denied.
You shouldn't have to be an expert in order to get the medical care and benefits that you're entitled to. When you work with Miami Workers' Compensation Lawyers Coalition, you won't have to figure out everything on your own. We'll walk you through this process and will do everything in our power to ensure that your claim is approved.
How to Report Injury at Work?
Any accident that occurs on the job or is related to the workplace should be reported to your employer as soon as possible. Accidents must be reported no later than 30 days from the date that the injury occurred. If an injury or illness is not reported within this time window, your workers' compensation claim could be denied.
In some cases, you may not immediately be aware of an illness or injury. For example, repetitive strain injuries are not always noticeable right away. If this happens, your condition must be reported within 30 days of the dates when a physician informs you of your condition. It's crucial to report injuries quickly, and it's just as important to ensure that your injury is properly documented.
Who do I Have to Report a Workplace Injury to?
Workplace injuries must be reported to your employer. It's best to always report injuries as soon as they occur, even if the injury doesn't appear to be serious. Properly reporting an injury early on can help you to avoid problems in the future.
It's common for people to avoid reporting injuries because of concerns that they will be reprimanded or even fired. However, Florida Statutes Section 440.205 states that employers cannot fire workers for filing a worker's compensation claim. Reporting an injury swiftly could actually protect you against retaliation.
The specific person your injury needs to be reported to will vary based on the rules of your workplace. If you do not know who an injury should be reported to, it's best to report the injury to your direct supervisor. They should be able to provide you with instructions on what you should do next.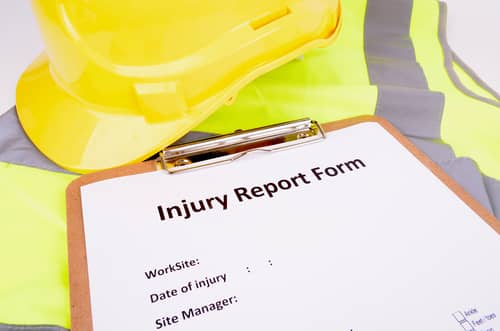 Employer Responsibilities After a Workplace Injury
When an employee has been injured on the job, and that injury has been reported to the employer, the employer must follow specific guidelines. Employers are required to present employees with a form to file a worker's compensation claim within 24 hours of the injury report.
After the form has been completed and turned in by the employee, the employer must provide the employee with a copy of that form. The employee will also need to authorize funds to cover the cost of emergency medical care. Employees are not financially responsible for medical costs associated with injuries that occurred on the job.
Employers must report the injury to the company's worker's compensation insurance company within seven days of notification. This must be done even if the injury is not serious. Employers are required to complete and file a First Report of Injury.
If the employer disputes that the injury occurred on the job, that must be acknowledged on injury forms. If an employer fails to report an injury that they have been informed of, or if an employer does not provide an employee with the forms they need to file a workers' compensation claim, they could be subject to penalties.
Medical-only claims, which involve injuries that require treatment but do not require an employee to miss more than seven days of work, must also be reported. Employers that fail to report these claims or fail to report them in a timely manner could be fined up to $500.
Employee Responsibility After a Workplace Injury
An employee's primary responsibility after being injured on the job is to fill out an employee incident report to their employer. Claims involving injuries that were immediately reported have a higher chance of being approved. If they do not fill out an employee incident report within 30 days, any claims involving that injury may be denied.
If an employer fails to report an injury to the insurance companies, employees are entitled to contact the insurance company directly. The Florida Employee Assistance Office, which can be reached at (786) 686-2857 can also provide help in these scenarios.
Employees must seek the appropriate medical care for injuries. Treatment should be provided by a doctor that is approved by the employer or insurance company. Employees are not responsible for medical costs associated with on-the-job injuries. Instead, medical bills should be submitted to the employer's insurance company for payment.
In some cases, an injury may temporarily prevent an employee from returning to work. Doctors may also recommend that employees work reduced hours or shift to light-duty work. Employees must comply with doctor recommendations so that they can properly recover from the injury.
Call Us Today When Reporting Injury at Work in Hialeah
It's vitally important to report work injuries within the appropriate time frame. If you delay reporting, you are at risk of having your worker's compensation claim denied. It's also crucial that the employer reports the injury to the insurance company in a timely manner so that you can receive medical care and any benefits that you're entitled to.
If your employer is failing to meet their obligation, or if you believe that your claim has been unfairly denied, you need help from a Hialeah worker's compensation attorney. Miami Workers' Compensation Lawyers Coalition can answer questions, offer assistance, and can fight to make sure you have access to what you're owed.
Even though the law protects employees that are injured on the job, there are employees that don't comply with existing regulations. If you're in this scenario, we can provide you with the support that you need. Once you call us at (786) 686-2857, you can trust that we'll fight to keep your rights from being trampled on.