Were you or someone in your family injured because of another person's negligence? If so, Florida law allows you to claim compensation from the responsible party for your damages. If you want to receive the compensation you deserve, handling the case on your own isn't the best thing to do. You should hire an experienced Kendall personal injury lawyer to handle your case and obtain maximum compensation for your damages.
Miami Lawyers 360 is your trusted partner when it comes to handling personal injury cases in South Florida. Our team of attorneys has dealt with hundreds of lawsuits and won millions of dollars on behalf of their clients. We will always treat your case as though it's the most important in the world. Our lawyers will treat you as a person and not just a number. Contact us today at (786) 686-2857 to set up your free consultation.
What You Need To Do After an Accident
If you live in Florida, you have a significant chance of being involved in an auto accident at some point in your life. In fact, Florida has a higher rate of auto accidents compared to most of the other states in the country.
Being injured in a workplace accident, car crash, or another type of accident is stressful. Here are some important steps to take soon after being injured:
Seek Medical Care
Seek medical treatments even if you think you are not seriously injured. After a car crash, you may not feel anything immediately after an accident due to the adrenaline rush that takes place. But you may start to feel the pain after a couple of days.
You need to retain all the medical reports to prove your injuries when filing a case against the responsible party. You'll also need medical documentation for a workers' compensation claim.
Report the Accident
If you're involved in a car crash, call the police. Don't forget to get a copy of the police report to produce when filing your case. You should report a workplace accident to a work supervisor. You must report an injury within 30 days to protect your right to file a workers' comp claim.
If you're hurt in a fall on someone's property, you should alert the property owner or manager.
Take Photos and Video
If you were involved in a car crash, take video and photos of the scene of the accident if you can. Pictures and videos can provide useful evidence in other personal injury cases besides car accidents. You might take pictures of machinery involved in a workplace accident or a wet floor that caused you to fall at a store.
With any type of accident, it's a good idea to take pictures of any visible injuries you have.
Get Contact Information from Witnesses
Get the names, addresses, and phone numbers of any witnesses to the accident.
Don't Admit Fault
Don't admit fault to anyone, even the police until you speak with an expert personal injury lawyer.
Contact a Personal Injury Lawyer
The most important thing is to hire a skilled personal injury lawyer in Kendall to handle your case.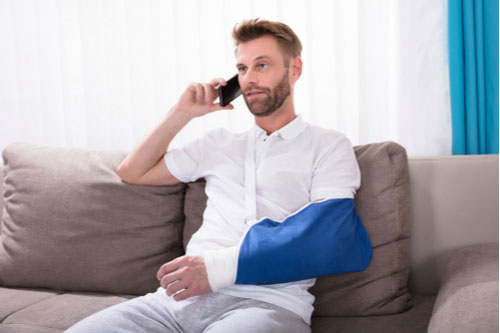 Why do I Need a Lawyer For an Injury Claim?
A personal injury lawyer can help you obtain maximum compensation for your damages. Insurance companies will try to pay out the minimum amount of compensation by playing down your injuries. An experienced lawyer from Miami Lawyers 360 will negotiate with the insurance company to obtain maximum compensation for you. Here is why you need a lawyer to handle your personal injury case in Kendall.
Lawyers are experienced in case preparation and filing lawsuits. They have handled hundreds of similar cases in the past and know what to do in your case.
Your lawyer will try to negotiate with the insurance company of the at-fault party to obtain maximum compensation for your injuries. They have the necessary skills and experience to do so.
If the insurance company isn't willing to provide maximum benefits, your lawyer will take the case to trial in order to obtain the maximum compensation that you rightly deserve.
What Type of Damages Can I Recover?
Florida law allows you to recover three types of damages for the injuries you suffered as a result of the accident.
Economic Damages – Economic damages include medical bills, future medical costs, lost wages, loss of quality of life, and funeral expenses in case of death. Economic damages are quite easy to calculate.
Non-Economic Damages – Non-economic damages aren't easily calculated and may include mental and emotional distress, pain, suffering, and loss of companionship.
Punitive Damages – Punitive damages are awarded in some cases to punish the at-fault party for his/her reckless behavior.
How is Liability Determined in Kendall Injury Claims?
The victim needs to prove the four elements of negligence to claim compensation for his or her injuries:
The responsible party had a duty of care towards the victim
They breached the duty of care
This breach resulted in the accident
The accident caused injuries to the victim
Florida is a state that practices pure comparative negligence where even a person who is partially responsible for an accident can sue the other party for damages.
How Much Time Do I Have to File a Personal Injury Claim in Florida?
Florida's statute of limitations comes into effect four years after the accident. You should file must file a personal injury lawsuit within four years of the incident.
How Much Will a Kendall Personal Injury Lawyer Cost?
We work on a contingency fee basis where you only pay our lawyers if they win the case for you. You don't pay anything until the lawyer wins the case. We charge a percentage of the compensation awarded to you once the case is won.
Types of Personal Injury Cases We Handle at Miami Lawyers 360
We handle a wide variety of personal injury lawsuits including:
Car Accidents – Car accidents are quite common in Kendall. Our lawyers have extensive experience in representing hundreds of such cases in the past.
Workers' Compensation – Workers' compensation is designed to help those who've been hurt on the job. Our attorneys can answer questions about workers' compensation insurance and help you navigate the system.
Get a Free Consultation
If you are injured due to someone's negligence in Kendall, FL, you should hire the best personal injury lawyer to file your lawsuit. At Miami Lawyers 360, our team is committed to getting the best results for you and your loved ones. We can help you obtain the maximum compensation for your injuries. Call us at (786) 686-2857 or fill out our online contact form to schedule a free, no-obligation consultation.