Reporting work-related injury in Kendall should be simple and straightforward. Florida statute clearly defines what accidents can be covered, the time you have available to submit your claim, and the various responsibilities of everyone involved. But we understand that even simple cases can become problematic when you're dealing with a serious injury or a potential disability. That's why we are here to help around the clock.
Our attorneys work tirelessly to fight for injury victims in Kendall, Miami, and surrounding areas in Florida. Even a minor injury has the potential to cost thousands of dollars and prevent you from returning to work for some time. It is the employer's responsibility to ensure you are compensated for that lost time and that your medical bills are covered. But they will be looking for any error in paperwork or filing as an opportunity to opt-out of payment.
You can avoid this by familiarizing yourself with the basics of workers' comp law in Florida. By knowing the important deadlines and responsibilities you can refrain from giving the employer any reason to deny your claim. And if you are still in need of professional assistance, then grab a phone and call our office 24/7 at (786) 686-2857.
How Long do I Have to Report a Workplace Injury in Kendall, Florida?
No more than 30 days from the date of the injury.
Your initial report marks the beginning of the process for receiving benefits. There are still several additional steps that involve the employer and insurance provider before you can begin receiving benefits. Those additional steps can take several weeks. If you want to ensure you begin receiving benefits as soon as possible, then you need to immediately report your accident.
This deadline also applies to the development of an illness, such as one that might be caused by prolonged exposure to hazardous materials. You have a deadline of 30 days after discovering the illness is linked to your place of work. Likewise, if you receive a diagnosis from the hospital of a condition or illness with relation to your work, then you have 30 days from the day you received the diagnosis to providing that information to your employer.
If possible, it is best to report your injury prior to visiting a medical professional. Workers' compensation insurance only covers specific doctors who are approved by the insurance provider. By visiting a doctor before reporting the condition you increase the likelihood that the doctor and the provided treatment will not be covered.
Who do I Have to Report a Workplace Injury to?
You should report your injury to the on-site supervisor or manager who is available at the time. Take a note of this supervisor's name and the time you reported to them as well. These records could prove invaluable at a later time if they attempt to deny your benefits.
Florida law does not require that a written report be filed at this time by the employee or that they complete any injury report forms. However, we do advise submitting a report in writing as soon as possible. We also advise completing injury report forms provided by your employer. These documents will provide a clear record of your claims process and avoid any dispute regarding the validity of your report.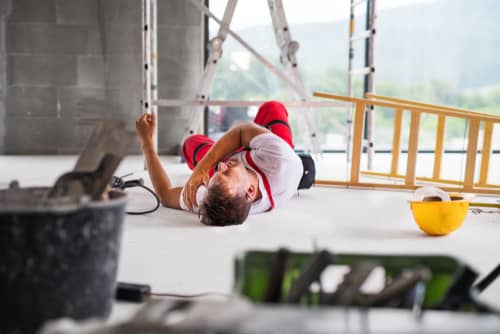 Employer Responsibilities After a Workplace Injury?
The employer has several key responsibilities following the occurrence of a workplace injury. Most notably, it is their responsibility to report the injury to their workers' comp insurance carrier. This report is known as the First Report of Injury and is an important document moving forward. The insurance provider cannot approve the claim and begin providing benefits until this report is filed. An employer has seven days from the date of your report to provide their insurance carrier with this document.
You'll know if the employer sent this document because the insurance carrier will send you an informational brochure within the following three days. The brochure will cover information regarding your rights, responsibilities, and other important workers' comp laws.
In some rare cases, an employer may refuse to report your injury to their insurance carrier. If this happens, you have the right to contact their insurance carrier yourself and make the report. That information should be made available somewhere at your place of work. If you cannot find that information, then you can contact the Florida Employee Assistance Office.
An employer who is refusing to submit your report is never a good sign. We advise contacting our legal experts for guidance regarding the next steps as they will differ somewhat when the employer is refusing to fulfill their responsibilities.
Employee Responsibility After a Workplace Injury
You have two key responsibilities following an accident. You need to report your injury to a supervisor and you need to seek medical attention for your injury. There may be more input required going forward, but for now, this is all that is required. Your focus should be entirely on recovering from your injury and following through with any advised medical treatments.
You will have additional responsibilities if the insurance provider ultimately denies your claim. You will have the time to make a "good-faith effort" to resolve any disputes with the employer or insurance provider. If that does not work, then you can begin the process of filing a petition for workers' compensation benefits.
We advise seeking legal assistance if you find yourself burdened with these additional responsibilities. Filing a petition with the Office of Judges of Compensation Claims(OJCC) is a point where having professional legal assistance will be to your benefit. Our attorneys can assist with the petition, the meditation, and any potential legal hearings.
Call us Today When Reporting Work-Related Injury in Kendall
You may not have a responsibility to work with an attorney after an injury, but it is certainly a good idea. Large companies and insurance providers will take advantage of even the slightest mistake. You do not want to give them an opportunity to deny your claim. We can help you make all of the right decisions during your claims process. All that you need to do is call us today at (786) 686-2857 for a free claim evaluation.