Any experienced Miami workers comp attorney has encountered the most varied types of workplace accidents. From falling from a height on a construction site to getting injured by a tool in a workshop – we can attest to the fact that our lawyers helped injured workers doing all sorts of jobs. However, there is one type of workplace injury that appears to be less known and discussed: a car accident.
There is no mistake about the fact that car crashes are responsible for most injuries and loss of lives in our state among other types of personal injury events. For instance, in 2022 there were 366,076 crashes in Florida, resulting in 3,146 deaths and 232,943 injured persons, according to Florida Highway Safety and Motor Vehicles (FLHSMV).
It is quite possible that some of these unfortunate accident victims were on the job – that is, performing a job duty or a task assigned by their boss when they suffered the crash. And this means that they were eligible for workers comp.
Workers Comp Will Cover More Economic Damages than Car Insurance
As you know, every driver in Florida is required to carry Personal Injury Protection (PIP) covering at least $10,000 in medical bills. This is so because Florida is a no-fault state. This means that, in the event of a car accident, each of the drivers will file a claim with their own insurance company – irrespective of who was at fault for the crash.
Here is something very important to know: while PIP will cover your medical care bills up to the coverage amount – $10,000 if you carry the minimum coverage – there is no limit for workers' comp benefits. You will be compensated for 100% of your medical bills and also receive wage replacement amounting to 2/3 of your average weekly wages.
Workers' Comp Is Available Only If You Were On the Job
If workers' comp is better than filing an insurance claim, why don't more people take advantage of it? The fact of the matter is that it is far easier to get a settlement from your car insurance company than to win workers' comp benefits. The main issue here is this: you must be on duty when the car accident happened.
This excludes the following situations:
When you are commuting to and from work
When you are on a lunch break
When you are performing a task not related to your job – even if you are driving a company car.
A Miami Workers Comp Attorney Can Help You Prove Your Case
The big question in such a situation is: were you on the job when the car accident happened? For some types of employees, this is easy enough to prove. Delivery van drivers, couriers, and postal workers have clear schedules for performing their tasks. They also carry logs for each delivery, where the recipient signs when they get their package.
Thus, it is easy for a Miami workers comp attorney to establish that the injured worker was on the job when the car accident occurs. This is made simple by the fact that driving a vehicle is in their job description.
Things get more complicated when you are not usually required to drive a vehicle. For example, you are in charge of managing office supplies. One day, there is an urgent need for more printing paper and you go get it from the nearest Office Depot and you are hurt in a car accident.
If you took the initiative to go and buy printing paper, you most likely don't have a worker's comp case. However, if your manager instructed you to get the paper as soon as possible – you have a case.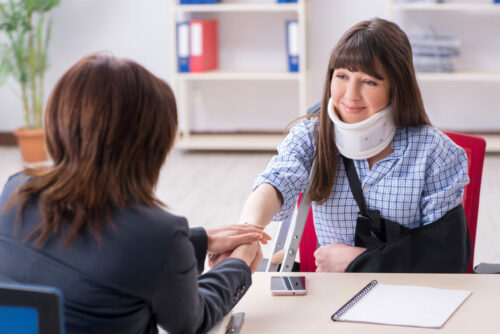 Does It Matter Whether You Were at Fault for the Car Accident?
Let us revert once again to the no-fault principle applicable in Florida. This means that no one is looking for the at-fault party in a car accident. Moreover, the workers' compensation scheme exists to offer financial compensation to injured workers, not to assign blame.
Of course, if you intentionally hurt yourself, that is a totally different matter. Workers' comp fraud is not treated lightly and will get you terminated from the job and with a big stain on your professional reputation.
However, if you were simply negligent behind the wheel and suffered a car accident while on the job, this does not mean that you are not eligible for workers comp benefits.
You Are Still Eligible to File a Personal Injury Lawsuit
Another factor worth keeping in mind is that getting workers' comp benefits for your car accident does not bar you from other forms of recovery. If your crash was caused by someone else's negligence or reckless behavior, you are still entitled to pursue them for non-economic damages, such as pain and suffering, mental anguish, and emotional trauma.
For this reason, you should always call the police to investigate your car accident. The report will also help pinpoint the place and time of the accident. Your Miami workers comp attorney will use this information to prove that you were on the job, such as in the middle of your usual delivery route or on your way to a client's office if you work as a sales agent.
Also, the findings in the report will help a personal injury lawyer prepare your case for court and secure a favorable outcome.
Do Not Negotiate Your Workers' Comp Claim Without a Lawyer
Many people rely on the good relationship they have with their employer and believe that they don't need a Miami workers comp attorney. Their employer was always fair to them, so there is no reason why they would not do the same now.
However, in a workers' comp case you will not be dealing with your employer, but with their insurance company. And any insurer will try to limit the number of claims they have to pay. In a complex issue such as a car accident, it is of paramount importance to have professional legal representation.
The insurer can claim that you were not on the job – and you may not know where to look for the evidence to prove otherwise. However, a seasoned attorney will find that crucial piece of evidence showing that you were under your employer's control when the accident occurred – that is, doing a task that was assigned to you or is part of your usual job duties.
Let a Skilled Miami Workers Comp Attorney Prove Your Case!
Workers' Compensation Lawyers Coalition is a team of experienced workers comp attorneys, dedicated to helping injured employees win the benefits they deserve. We pay attention to detail and leave no stone unturned when looking for facts and evidence to prove your case.
If you were on the job when you were hurt in a car accident, workers comp benefits will offer a more generous compensation than your PIP coverage. We encourage you to schedule a free case review with us and find out whether you are eligible to file a workers' comp claim in this situation!