What to do when reporting a work-related injury in Fort Lauderdale, FL? Here at Workers' Compensation Lawyers Coalition in Palm Bay, we receive many questions from professionals of all lines of work asking how they should report their workplace injuries. In the following article, we would like to share our knowledge and expertise on this important question as well as the obligations your Florida employer has after an accident in the workplace.
How Long do I Have to Report Workplace Injury in Ft. Lauderdale, Florida?
Your first order of business will be to notify your employer of the injury. You will want to do this as soon as you possibly can, but certainly no later than 30 days from the date of the incident. If you have suffered from an "occupational disease", such as COPD, Asthma, or Musculoskeletal disorders, you will have 30 days from the date of your professional diagnosis to notify your employer of the condition.
It is important to note that failure to notify your employer within thirty days can result in your claim for worker's compensation being categorically denied by the employer's insurance carrier.
Who do I Have to Report a Workplace Injury to?
After you have been injured in the workplace, you must file a report with your employer or your immediate supervisor. According to Florida law, you do not have to make this report in writing but there are advantages to doing so. Filing a report in writing provides you with evidence that this report was made and this will be beneficial to making your claim.
After you have notified your employer, it is their responsibility to notify their insurance carrier of the injury within 7 days. If they choose not to notify their insurance carrier, you can notify the insurance carrier of your employer. The insurance carrier will then begin an investigation to determine the eligibility of your case. This investigation will include:
A review of the employee's medical records
An analysis of work, wage, and educational experience
A medical examination
An evaluation of functional capacity
By Florida Law, the insurance company must then approve or deny your worker's comp benefits. If approved, you will begin to receive your disability payments. But the truth is that insurance providers categorically deny many compensation claims.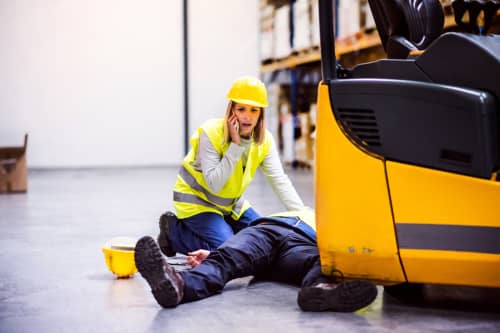 Employer's Obligations to After Workplace Injuries
After an employer has received an injury report from their employee, they may be obligated to make a report to their insurance carrier depending on the seriousness of the injury.
For example, if the injury is small and needs nothing more than first aid, there will be no need to report the incident to the insurance carrier. Nevertheless, the employer will still be required to make a specific record of the incident. A first aid injury is one that can be treated on the job and does not disable the employee from working for more than a single shift. The records that the employee must keep from such an injury include:
The employee's name
Date and time the accident occurred.
Social Security or ID number of the employee
Occupation of the employee
Who made the report and at what time and date
Description of the accident
The affected body parts
Location of the accident
If the employee suffers an injury that requires medical attention and causes them to lose more than 7 days of work, the employee must file a "Medical Only" claim. The employer must report this injury to their insurance provider within 7 days of the incident by filing the DWC-1 form. Failure to report this injury within this time can result in a fine of up to $500.
Employee's Obligations For Reporting Work-Related Injuries
An employee who has been injured on the job must make a report of the incident that resulted in an injury immediately. As mentioned, we recommend making a written report to the employer even if you have already made a verbal report. It is highly recommended that you send the report as an email document to your manager or immediate supervisor.
You will want to be sure that you have kept a careful record of the supervisor or manager who was given the report as well as a copy of the report and the date the report was sent. This should be kept in your own records.
Don't forget that it is imperative that you make this claim within 30 days of the date the accident that resulted in your injuries occurred. In the case of an occupational disease or condition, this countdown begins on the date that your physician provided their diagnosis and indicated that this condition is related to your employment.
If you fail to make this report of your injury in the workplace or your condition caused by a workplace-related hazard within the 30-day time frame, it is not uncommon for your claim to be denied by your employer's insurance carrier.
If your employer has not cooperated with you by reporting your injury to their insurance provider and begun the claims process, it is up to you to make the next move. Look for a poster that should be clearly visible in the workplace identified by a "broken arm." This poster will carry the insurance information of your employer in the bottom right-hand corner. You will be able to contact the insurance provider for your employer directly.
Alternatively, you can call the law offices of an experienced Florida worker's compensation law firm. At Workers' Compensation Lawyers Coalition in Fort Lauderdale, Florida, we can provide you the guidance and representation to proceed in obtaining your compensation.
Final Notes on Reporting a Work-Related Injury in Fort Lauderdale, Florida
At the Florida Workers' Compensation Lawyers Coalition, we have extensive experience in defending the rights of our clients and providing them with the compensation they need to make a full recovery. Let us provide you with assistance while you focus on the important task of making a full recovery. Call (786) 686-2857 and arrange for a FREE consultation with our Worker's Compensation Attorneys today.