Workers' comp in Miami refers to the compensation you get from your employer when you are injured on the job, with no strings attached.
Some states, like Miami, Florida, follow a no-fault worker's compensation law. This means you get compensated even if you were responsible for your injuries with the help of a Miami workers comp lawyer. 
With the help of their insurance company, the employer is liable to compensate the injured worker. The amount of compensation is determined based on the type of injury, and the maximum permissible compensation is based on the injured worker's average salary.
Florida is one of the states that cover 100% of your medical expenses, including:
Hospitalization
Doctor's visitation fees
Physical therapy fees
Expenses of medical tests
Prescription drugs expenses
Prostheses if needed
Attendant care
And it also offers mileage reimbursement, i.e., expenses related to transportation to and from the doctor's place, hospital, etc.
Can You Get Pain and Suffering Through Workers' Comp in Miami?
Pain and suffering are non-monetary types of compensation. Such compensation is granted mostly in personal injury lawsuits like car accidents, product liability cases, and similar cases.
As per pain and suffering, the victim is liable to receive compensation for non-monetary damages like pain caused due to the injuries and the suffering that followed through, whether mental or physical.
The estimate of such pain and suffering is calculated based on the extent of injuries.
However, in Miami, Florida, you cannot get pain and suffering through worker's compensation. In fact, the pain and suffering cannot be recovered in worker's compensation. Miami and many other states deny the recovery of such damages.
If you are receiving your worker's compensation from the employer and insurance company, it becomes difficult for them to calculate the amount of pain and suffering in the time limit they are provided.
As per the laws, the employer's insurance company must report the claim's status within 30 days or so. Any delay in returning to the injured worker is considered an unwillingness to give compensation. The injured worker can contact his attorney and file a suit within this time.
Thus, compensation for pain and suffering is not provided in worker's compensation in Miami. However, you can file a personal injury lawsuit against the employer to recover the cost of pain and suffering.
You can file a lawsuit and claim for pain and suffering only when:
Your employer is denying you your rightful worker's compensation
The employer is not providing you with your eligible amount of worker's compensation
The insurance company denies the claim with false allegations
The worker's compensation provided by the employer is insufficient to cover the amount of medical expenses
When your injuries are way too serious, and the expenses are way above what is covered under the worker's compensation
When a party other than your employer is liable for the job-related injury you sustained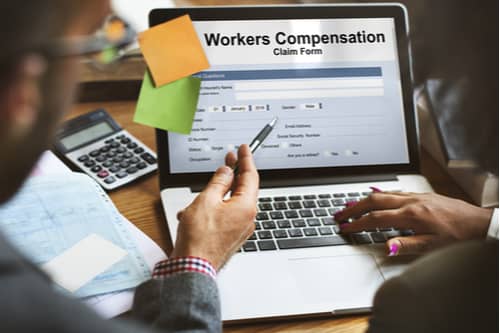 How to Report a Workplace Injury in Miami?
How soon can you report your job-related injury to get help with your worker's comp? In Miami, an injured worker should report their injury as soon as possible with a maximum cap of 30 days. You should report it within 30 days of the date of injury or 30 days within the date when the doctor considered it a work-related injury.
If you fail to report it within 30 days, you lose your right to receive the worker's compensation.
If your employer is not reporting your injury to their insurance carrier, you should inform them. You can find your insurance carrier's information somewhere posted at your workplace.
If you can't find any information, contact the Employee Assistance and Ombudsman Office by calling at 800-342-1741.
In such circumstances, you can also hire a workers' comp lawyer in Miami, Florida, and work on recovering the damages together.
How to Calculate the Maximum Workers' Comp in Miami for Lost Wages? 
To calculate your maximum worker's compensation, you should know:
The Type of Injury You Have
You can get compensated for four types of injuries, i.e., temporary total disability, temporary partial disability, impairment income benefits, and permanent total disability.
For this, you should also know your impairment ratings. Depending on such rating, your injury is put into one of these categories.
You should also know your average weekly wage. Each employee has a different average weekly wage depending on their job and the position they are hired for.
In Miami, you receive 66 2/3rd of your regular wages if you are diagnosed with temporary total disability.
Year of Accident or Illness
The year you suffered your accident also determines the maximum permissible workers' comp in Miami.
Once you have these figures, you can use the calculator on the Florida's Division of Worker's compensation official website to calculate your disability benefit.
Apart from the lost wages, you can also be provided medical and wrongful death benefits as part of the worker's compensation in Miami.
How Does a Miami Workers' Compensation Attorney Help?
A Miami worker's compensation attorney will help you file the personal injury lawsuit to get you fully compensated.
Thereafter, your lawyer will assist you with:
Reviewing and estimating your losses as per the necessary criteria. This would involve categorizing your injuries and then calculating the benefits available for such injuries.
Conducting a thorough investigation of how the injury happened and, after that identifying the negligent parties responsible for the accident
Calculating the overall estimated cost of the compensation, the case is worth it
Presenting evidence before the court of law and proving the element of negligence
Presenting evidence of how you are entitled to receive a certain amount of compensation as per laws
Coordinating the paperwork for filing the case
If you are injured in a workplace and don't know how to handle the repercussions, you can consult a Miami personal injury lawyer. Such an attorney will help you take the right steps at the right time without panicking. Contact us today.