By now, most would have heard about worker's compensation. Workspace injuries are common in almost all sectors. You don't need to be involved in dangerous physical work to be injured at work. Anyone from a desk clerk to a construction worker can face workspace injuries.
The aftermath of such injuries often involves repeated hospital visits, continuous anxiety, skipping work to get treated and recover, thus, inevitably losing precious work hours and therefore pay.
All these will be emotionally and financially taxing on any workplace injury victim. However, if you have been hurt or injured at work, certain laws help you get compensation from the company for all your expenses.
Every company or business offers their employees a certain amount of compensation to protect themselves and their employees from the adverse effects of workspace injuries. It is a government-mandated form of insurance, keeping both the employee and the employer's well-being in mind.
A Miami work injury lawyer ensures that the victims have their expenses covered. When the injury occurs due to unforeseen circumstances at work, any company would be obligated to pay fully or partly for the victim's treatment.
What Does Worker's Compensation in Miami Cover?
Worker's compensation in Miami covers various injuries like:
Spinal cord injuries
Knees and elbow injuries
Hip and shoulder joint injuries
Foot or hand injuries, including fractures and burns
Hearing and vision loss caused by machine accidents
Stress injuries
Paralyzes due to spine injuries
Heart attacks, heart failures, and strokes caused due to work stress
Injuries and trauma to the brain
Chemical burn injuries
Carpal tunnel syndrome caused due to work-related etiology
Tennis elbow and
Rotator cuff tendinitis aggravation
Aggravation of previously existing skeletal, muscular, neural, cardiac, and respiratory disorders
Pulmonary diseases due to inhalation of toxins
Crush injuries
Worker's compensation also gives aid in the following scenarios:
Hospital bills
Medication bills
Hospital stays
Physiotherapy bills
Wages lost due to hospital stay and rest days
Rehabilitation costs
Death benefits a victim's family members.
How to Claim Worker's Compensation
You must report your injury immediately. If you don't report the injury within 30 days, you lose the right to claim workers' compensation. It's your employer's responsibility to contact the insurance company. If your claim is denied, you can appeal the decision.
Our Miami work injury lawyers ensure your rights are upheld throughout the workers' comp claims process.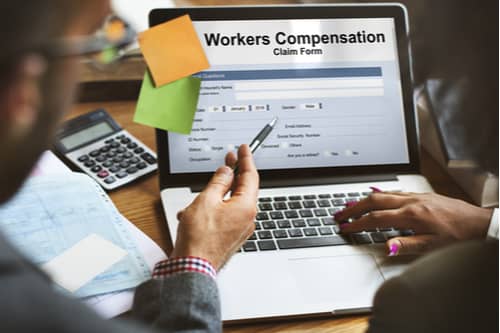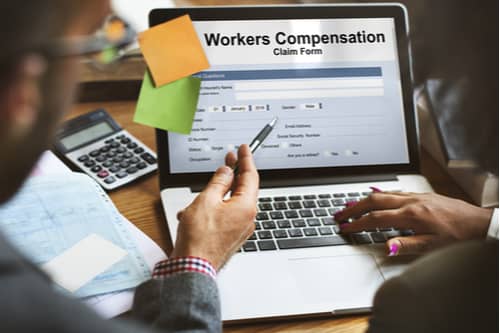 How Will a Miami Work Injury Lawyer Help Me?
The difference between a Miami work injury lawyer and an insurance company is that work injury lawyers know exactly how much compensation you can be entitled to have for your injuries. You may file a complaint with your insurance company, but they try to cut down your compensation.
When you hire a work injury lawyer, they help you from the start. They sit down with your company's employment contract and go through the insurance details; they assess the scale of your injuries and give their legal opinions on how you can proceed with your company.
They also take care of the claim's paperwork and technicalities, allowing you to focus on resting and regaining your health. They would make sure to notify all parties to your compensation issue well in advance. Due to experience and knowledge in this specific issue, they know how certain companies will work their way around the compensation.
They are trained to ensure that there is no loophole in your worker's compensation claim, which the opposing party can point on to reject your claim. They know which topics are to be stressed to ensure that your claim is processed quickly with no unnecessary lag.
A Miami work injury lawyer would be happy to take care of everything – from putting together necessary documents to negotiating with your insurance company solely for your benefit.
A Work Injury Lawyer Helps You See Your Case In A New Light
In the case of third-party claims, where the injury resulted from another person involved other than you and your company, the claim proceedings may be a bit different. In such cases, you can file for a workspace injury claim as well as a personal injury claim against that person or group of persons that may have caused your injury. Having an experienced attorney by your side only smoothens this procedure.
In some instances, a pre-existing medical condition may be aggravated due to the workspace conditions. For example, asthma, bronchitis, pneumonia, and so on. In such cases, to process a proper claim, you must prove that your medical condition was legit and has deteriorated due to the poor conditions of the working area itself.
Insurance companies may try to bring in a medical professional and make it seem that your condition does not serve your claim. In such cases, your workspace lawyer will do their best to nullify the other party's wrongful claims and get exact compensation for your legitimate claims.
Also, frequently, in the hurried and vulnerable state that an injury puts you in, you may unknowingly settle for a lesser compensation thinking that it is enough and you don't have time to fight for more. In some cases, you may not even be aware that your condition is eligible for more compensation. The workers' compensation lawyer studies such cases from all angles and gets you the highest compensation possible.
They also represent you if your workers' compensation claim is denied. Claims may be denied for many reasons, and having a good attorney is crucial.
Contact Our Top Miami Workers' Comp Lawyers
Whenever a workspace injury happens, any victim's primary concern is to get better. Many employees usually skip claiming workspace compensation due to unawareness and the involved hassles. Even if they do claim workspace compensation, they get way below what they can be legally entitled to most of the time.
This is why it makes sense to hire a Miami personal injury lawyer. We help you get the deserved remuneration and complete the whole procedure smoothly and effortlessly. The technical and legal load of the entire process will be removed from your shoulders and kept in the safe hands of professionals so that you can focus entirely on your post-injury therapy.