People get hurt on the job every day. It does not matter whether the worker is employed at a high-risk construction site or at a low-impact desk job. Accidents can happen on any job, and they are beyond the worker's control. If you suffer an injury while performing your job duties, you are entitled to receive workers' compensation benefits in Opa-Locka. Under Florida's laws, in general, an employer must carry workers' compensation insurance if they are in the construction business and have at least one employee, or if they are in a non-construction business and have at least four employees.
The benefits to the injured worker include medical benefits which cover any medical expenses incurred as a result of the work-related injury and work replacement benefits that replace some of the wages that the injured worker is not able to earn because of the injury. Accurately calculating the amount of the work replacement benefits can get tricky. As the injured worker, if you ever feel that you are not getting all the benefits that you have the right to receive, contact the Miami Workers' Compensation Lawyers Coalition in Opa-Locka, FL. Our legal experts will help you navigate through the legal tangles and help you get all of the benefits that you deserve.
Florida's Workers' Compensation Income Limits
The limit of the wage replacement benefits is usually two-thirds of your regular weekly wage before you were injured, but it cannot be more than Florida's statewide average weekly wage paid by employers as determined by the Florida Department of Economic Opportunity.
Types of  Workers' Compensation Benefits in Opa-Locka
There are two parts to workers' compensation benefits. One part is the medical benefit. This covers your authorized doctor's visits, lab tests, hospital stays, physical therapy, medical prostheses, and prescriptions. It can also cover your travel expenses to and from your medical appointments for your work-related injuries.
If during the course of your treatment, your authorized doctor deemed that your recovery or healing has reached the point where it is not likely that there will be any more improvement to the symptoms that resulted from your work-related injury, that means you have reached maximum medical improvement or MMI. In this case, if you still need to go to treatment, you will be required to pay a copayment of $10 per authorized treatment visit.
The other part of workers' compensation benefits is the wage replacement benefit. There are four categories. Below is a description of each one: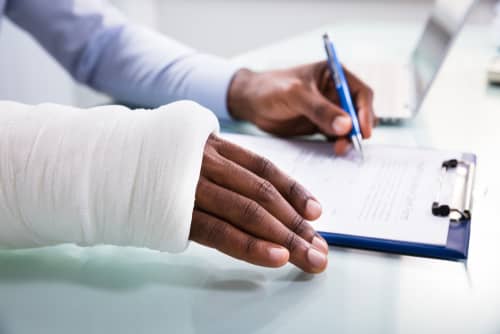 Temporary Total Disability Benefits in Florida's Workers' Compensation (TTD)
In general, you can receive Temporary Total Disability benefits when your work-related injuries caused you to miss work for more than seven calendars days. The wage benefits start on the eighth day of your disability. If you are still unable to work after 21 days, you will get wage replacement benefits from the first day of your disability. The weekly amount cannot be above the statewide maximum which the state adjusts every year.
If the injury is serious and resulted in something like blindness or paralysis, the benefits rate for the first six months is 80 percent of your wage before the injury, with no maximum. You can get this benefit for up to 104 weeks, or two years.
Temporary Partial Disability Benefits in Florida's Workers' Compensation (TPD)
Sometimes during your recovery, your authorized doctor determines that you can return to work, but with some restrictions to your previous work responsibilities. For example, perhaps you normally work in the mailroom, but your doctor instructs you not to lift any heavy packages. So, your supervisor has to remove lifting from your responsibilities. If your modified work responsibilities resulted in your earning less than 80 percent of what you normally earned before your injuries, you are entitled to receive Temporary Partial Disability benefits. The TPD benefits will cover 80 percent of the difference between your current reduced earnings rate and 80 percent of your pre-injury earnings rate. The maximum number of weeks that you can receive TPD benefits is 104 weeks or two years. Before the 104 weeks are up, if your doctor determines that you have reached a date when your injuries are no longer improving (your maximum medical improvement date), your temporary disability benefits will end. This leads to Impairment benefits.
Permanent Partial Disability Benefits in Florida's Workers' Compensation (PPD)
Around six weeks before the expiration of your Temporary Total Disability benefits, your authorized doctor will determine if you suffered from any permanent impairment from your work-related injuries. This can include any physical or psychological impairments that still exist after your doctor determines that your injuries have improved as much as they could. The permanent partial disability is expressed in a permanent impairment rating that represents the percentage of your total body that is disabled. This will be used to calculate how long your PPD benefits will last.
Permanent Total Disability Benefits in Florida's Workers' Compensation (PTD)
A disability can be determined as total and permanent. Brain injuries or amputations are examples. If the disability is permanent and you can no longer work, you can receive Permanent Total Disability benefits that is equal to the rate of the Temporary Total Disability benefits. These payments will continue until you reach 75 years of age. If you do not qualify for Social Security benefits, the benefits will continue for the rest of your life.
How are Opa-Locka Workers' Compensation Benefits Calculated?
Florida's Division of Workers' Compensation website has convenient calculators for you to calculate your benefits. These help you figure out what wage replacement benefits you can expect to get as a result of your work injuries. Just enter the year of your injury and your average weekly wage, you an amount for your weekly benefits will display. There are calculators for TTD, TPD, and Impairment (Permanent Disability) Income.
Are Opa-Locka Workers' Compensation Benefits Taxed?
Florida's workers' compensation payments have no deductions or tax withholdings. These benefits are not considered taxable income.
Get Legal Advice for Your Workers' Compensation Claim
Workers' compensation claims can get quite complicated. If you feel that you are not receiving the benefits that you are entitled to, contact the Miami Workers' Compensation Lawyers Coalition in Opa-Locka, FL. Our experienced attorneys will manage your case and make sure you will get all of the benefits that you deserve.