Why is reporting a work-related injury in Miami Beach, FL, so important?
Work-related accidents are known to cause both minor and severe injuries that have long-term effects. When an employee gets injured while on duty, the Law requires the employer to provide medical aid for the employee until he or she has fully recovered. Besides, getting medical assistance, the law also protects the rights and interests of employees by making sure that they are compensated for their losses. Therefore, if you live in Miami Beach, Florida, and you have been involved in a work-related injury, contact the Miami Workers' Compensation Lawyers Coalition, to help you seek compensation for any losses that may have encountered.
Workers' compensation can be pursued by any employee who has been injured or gotten ill while on duty. However, even though this is a legal requirement, getting a fair settlement is not an easy process. That is why you need the help of an experienced lawyer to help you get through each stage of filing your claim.
How Long Do I Have in Reporting a Workplace Injury in Miami Beach, Florida?
The only way you can benefit from the workers' compensation insurance cover is by making sure that you meet all legal requirements, which include reporting your work-related injury or illness on time. Even though serious injuries may take time to heal, the law requires you to notify your employer of the work-related accident within 30 days. That is why we always advise workers to notify their superiors of their work-related illness or injury immediately.
Reporting the matter immediately is vital so that an investigation on your case can be started and also so that you can get quick medical attention. It is also a legal requirement, and you risk getting your claim denied if you do not report the matter within the recommended period.
Who do I Have to Report a Workplace Injury to?
Many employees do not know what the law requires them to do after getting involved in a work-related accident and because of this reason, many claims end up getting denied for not meeting various legal requirements.
Moreover, you should also be aware of the fact that each State has a different set of rules for reporting work-related illnesses or injuries. That is as an employee, you should consider working with a legal representative who is familiar with your state's workers' compensation laws.
According to Florida's state laws, you are required to report the matter to someone who is a leader or in charge at work, such as a team leader, supervisor, manager, or even the foreman.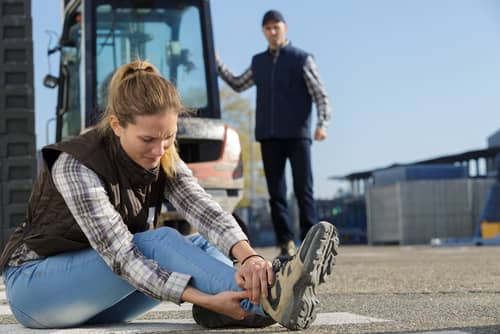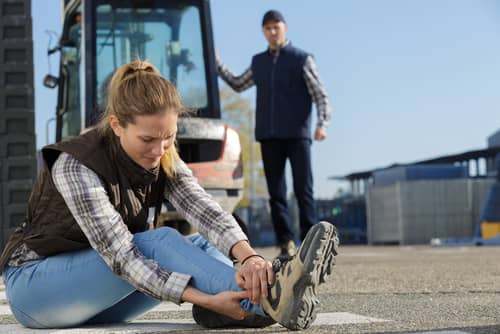 Employer Responsibilities After a Workplace Injury
The employer does more than just make sure that workers have safety equipment or a safe environment to work. After getting involved in a work-related accident, the law requires your employer to do the following:
Immediately report the matter to the Workplace Safety & Insurance Board (WSIB). Whether the employee suffers from a work-related illness or injury, the accident has to be reported to the WSIB in detail and state whether the employer is still on duty or not.
Notify other relevant authorities depending on the sector that the business specialized in, for example, if the employee was on duty at a construction site, the employer should report the matter to the State's Ministry Of Labor.
It is also the responsibility of the employer to make sure that you do not lose your job as a result of getting involved in a work-related injury. That means your employer will wait for you to recover from your work-related illness or injury and give you the privilege of resuming work.
Employee Responsibilities After a Workplace Injury
As an employee, you can get fully compensated for your work-related injuries or illness if you file your injury claim as required by the Federal state. That is why Miami Workers' Compensation Lawyers Coalition takes time to educate employees about their responsibilities after sustaining a workplace injury. As an employee, it is your responsibility to make sure that do what is listed below;
Report the work-related accident first. The first thing that the law requires you to do is notify your employer or superior about the accident. Your superior can also be a foreman, supervisor, or even a manager it all depends on your profession.
Make sure that your superior writes a report of the work-related accident that you were involved in and fill in an occupation injury form that entails more about the incident.
Acquire a WC-14 form and make sure that it is correctly filled before submitting it to the Workers Compensation Board in Florida. Also, make sure that give a copy of this particular document to your employer.
Seek medical attention. Do not ignore the need of seeking medical attention even if you only sustained minor injuries. Seeing a doctor is the only way you can be sure you are ready to get back to work. However, if you sustained severe injuries, take as long as the doctor recommends to recover before going back to work.
These are the legal requirements that you are supposed to fulfill if you want your claim to be quickly reviewed and approved within a short period. Moreover, Miami Workers' Compensation Lawyers Coalition advises employees to safely keep their medical records and other detailed reports since they can be used to build a strong case.
Call Us Today When Reporting a Work Injury in Miami Beach, FL
You can increase your chances of getting a fair settlement by working with the Miami Workers' Compensation Lawyers Coalition. Furthermore, as your legal representatives, we will file your work-related injury claim while you concentrate on recovering from your injuries. Another advantage of working with our dedicated legal team is that we always investigate more on each case to discover new evidence that can be used to support the client's claim.
How To Report a Work Injury?
Miami Workers' Compensation Lawyers Coalition has been in service for an extended period and is always ready to help employees with work-related injury claims. Therefore, do not hesitate to call our office and let us help you pursue a fair settlement.